Have you ever wanted to be a part of a book club but thought I dont have the time to go to weekly or monthly meetings? To go along with the theme of Homemaking I have started Honeys Read 2 is a virtual book club. Every month a new book will be chosen. Once you have finished reading it come back and leave your thoughts or comments on the book and read others thought and comments on the current book. Enjoy the benefits of a book club without ever having to leave the comfort of your home.
I am hoping that this will get other women reading. That we can share thoughts and feelings on books. Hopefully this will allow us mothers a few moments to connect with other women and talk about something other than children and housework. If you are interested in joining us please visit the new site: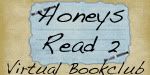 Add us to your favorites and share the link with your friends and family!